I went to see Soilwork live on August 12th. Aside from a night of brutally awesome music with great melodies, I found a new artist. I bought their latest album "The Panic Broadcast" last month as soon as it was released in North America. Notice I said bought, not downloaded. The main reason I wanted to have a solid copy of it in my hands was because of the album artwork. It's unlike anything I've ever seen before, an odd fusion of Asian and European styles that, well, looks quite panicked.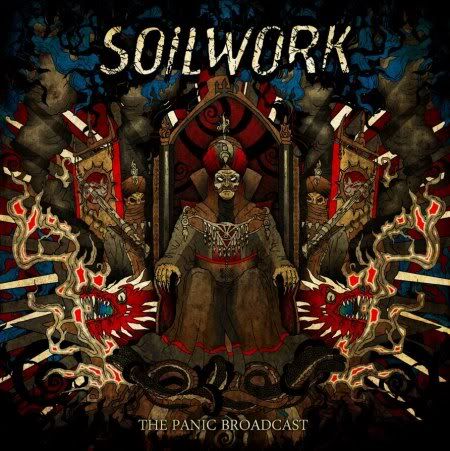 Soilwork is a melodic death metal band from Sweden, which makes such a colorful album cover unusual. Between the artistic style and colors, I was very confused. Then I open the booklet. Each page is covered in a surreal, beautiful design that is somewhat reminiscent of Art Nouveau, but more jagged and, for lack of better words, metal. It made a bit more sense now, but I still didn't get the title.
Fast forward a month to the night of the concert.
I'm driving to Richmond with my brother and a friend to see them live. It's pouring rain, I can't see, and traffic is terrible. We stopped for dinner and the rain let up a bit, but not for long. It downpours again and we get lost for about 2 hours. This was very panic inducing indeed. Well, we finally get there, halfway through the show. My friend missed the band that she came to see, but was rewarded by Death Angel's performance. After their set it was my brother and I's turn to let loose and have a bit of fun. While waiting for Soilwork to set up I saw some banners unfold in the back of the small stage and pattern light projectors come out, very exciting stuff for me. Before they take the stage the infamous radio broadcast of the infamous radio broadcast of an alien invasion made in October 30, 1938. Everything clicked in my head at this point! The album artwork made sense, the colors made sense, and the title made sense.
Swedish artist Bartosz Nalezinski, who created the artwork for this album, was asked to convey a feeling of panic, and the illusion that the mind can create about reality. The figure in the center of the piece is the emperor of the illusion, using the two dragons to spread his deception to the masses. The rest of the pieces is the chaos that ensues.
His style is very difficult to describe, especially after looking at other album artwork he has done for various bands. It's amazing how versatile he is. He can produce classic death metal images, such as Jesus in skeleton form as an icon gone wrong, or something completely abstract and beautiful, such as The Panic Broadcast. I would love to achieve such a broad range of imagery in my senior material. With the dualities theme, I think it can be done.
Needless to say, I bought a shirt after the show. It features some of Nalezinski's artwork from the album's booklet, which appears on the adjacent page of the lyrics for "Enter Dog of Pavlov". I think this is supposed to be Pavlov's dog after he rang the bell one too many times;