More guitar art! This guy is a professional luthier, and considered the best in the world. One of his average guitars sells for $3,000 easily. He does make a more affordable line, but the sound is nowhere near as thick as his hand crafted, Stevensville, Maryland made axes. There is one model in particular that almost every guitarist drools over when they see it. This is the legendary PRS Dragon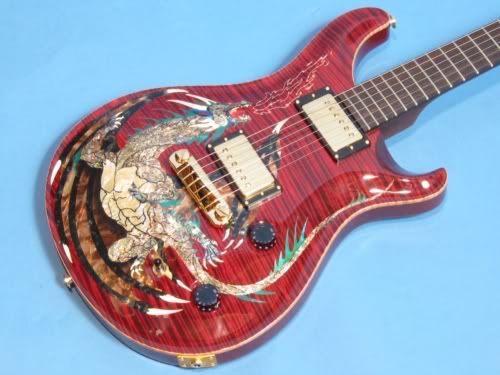 The entire body is covered in mother of pearl and semi-precious stone inlays. If you think it looks impressive in the photo, you should see it in person. There is currently one on display at the Museum of American History in Washington D.C. The attention to detail on these guitars is flawless. Every inlay piece fits snugly into the routing. This is one guitar I would be afraid of playing, because if I were to scratch it the entire world would hate me.
PRS inspires me to strive for that legendary craftsmanship, no matter what medium I'm working with. Impeccable build quality will always be something clients will take into consideration, so you might as well build it to last.