I will always have a passion for the guitar. It's such a fun instrument to play and look at. Let's face it, those absurdly expensive, hand built axes should sometimes be in museums, and often are. Not every guitar comes out of the shop with master artistry, sometimes they need special attention. Doug Rowell is one of those guys who will take an already great looking guitar and make it extraordinary. He's a wood carver, and claims that he can carve anything out of anything. Now, Doug is a man of few words. He lets his work do the talking, so I'll do the same.
Strat Nouveau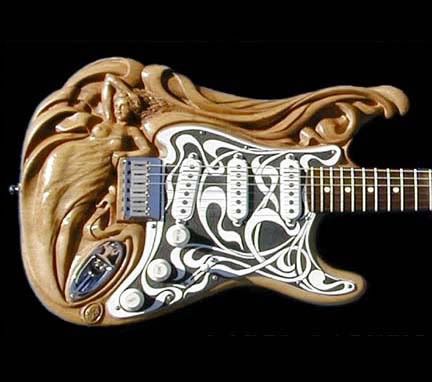 Dragon Heart Xiphos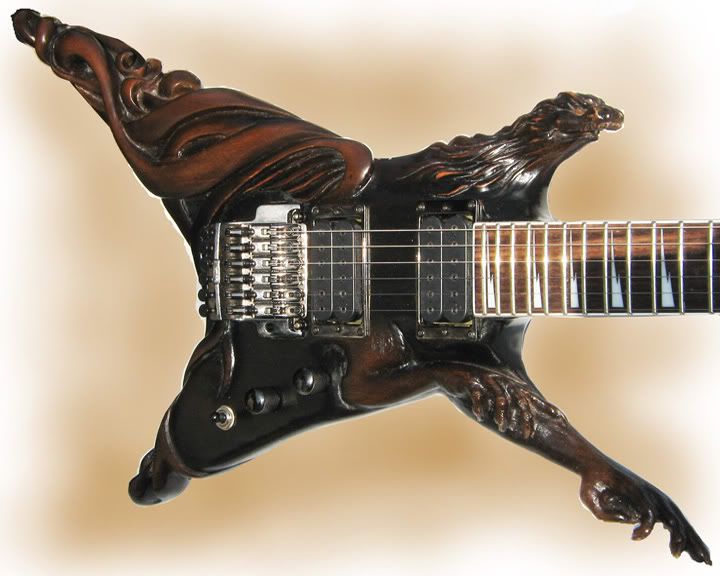 I'm a huge fan of Ibanez guitars, so the Xiphos hits home with me. I also like radical body shapes that stand out from the crowd, especially the pointy ones.
I actually plan on building my own 7-string guitar in the near future in an original body shape. It's nothing too gaudy, but still looks different from anything else I've seen. Rowell has motivated me to carry through with this extremely ambitios project.