Okoye is a Nigerian born painter and sculptor. She graduated from the Institute of Management and Technology in Enugu, Nigeria with a distinction in sculpture in 1988. For the next several years she taught drawing and sculpture at Federal Polytechnic Oko Anambra State Nigeria. While teaching he created an astonishing body of work, composed of paintings, sculptures, and writings. In 1993 he had his first solo exhibition, titled "Textures of Life" at the Lagos museum in Nigeria. In this same year he also launched his first book, "Lamentations", which made his poetry just as well known as his visual art.
In 1994 he moved to Vancouver, Canada. He wasted no time in becoming involved in numerous projects and promoting international artist exchange.
Okoye states that his artwork allows him to connect with his environment, uniting the beauty of nature with man-made forms. This is a very African theme that occurs in almost every tribe across the massive continent. Okoye builds on top of these elements with the understanding of technical skills and elements of design, creating some very powerful images.
"My Turn to Praise"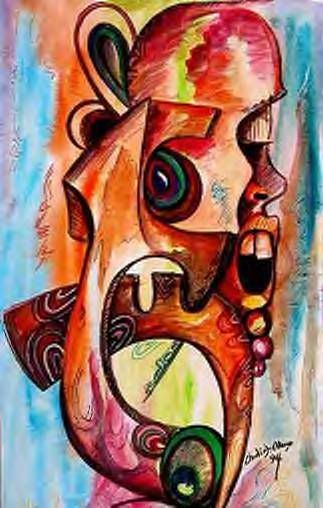 The ability to use a broad range of subject matter, color, and line makes his work very accessible to the public. Unlike most artists from his mother land, he can bring awareness to many social issue without the use of militant imagery. He won the poster competition for the Festival Sundiata in Seattle, Washington in 1995 and 1996, while winning best artist in 1998. he came to Atlanta, Georgia in 2001 and immediately became involved in the active art community. His works have been collected in Georgia, Vancouver, and Nigeria.
I find him influential in how he combines the organic with man-made. His use of color is very similar to how I am painting the cat skeleton.