Henry Moore was an English sculpture best known for his monumental bronze sculptures that can be seen all over the world. His sculptures are typical abstracted human forms in the reclining position.
His father was a mining engineer, and was very determined to keep his children from ever working in the mines. He greatly supported their education of all eight of his children. Henry decided that he wanted to be a sculptor at the age of 11 after hearing about Michelangelo's achievements. In 1919 he become the first sculpture major at the Leeds College of Art. The school gave him his own studio to show their appreciation. After spending years studying classical styles of sculpture he took a different path and went on to a more primitive and instinctual style of working. Luckily, he had plenty of material to study at the British Museum in their ethnographic sections.
During this stage he explored with direct carving methods, preferring the look of the marks that the tools left on the sculptures. In 1924 he won a traveling scholarship, which he used to study in Northern Italy and Paris. It was in Paris that he found the Chac Mool, which played a major influence in his later work.
On a side note, I don't think any of Moore's sculptures held the human hearts of sacrificial victims.
Upon returning from his travels he took a seven-year teaching post at the ROyal College of Art, which allowed hi to spend time on his own work. It was then that he received his first public commission for "West Wind" (which I saw the original inspiration of in Athens, Greece at the Tower of the Winds). This sculpture is located at the London Underground headquarters at 55 Broadway.
In 1929 he married Russian painting student Irina Radetsky. Her father was killed in the Russian Revolution and her mother was evacuated to Paris. This made home life very interesting for the two. They both moved to Hampstead after a bit of refugee drama due to the Revolution. Here, Moore became acquainted with Naum Gabo, Roland Penrose, and Herbert Read. He formed the Seven and Five Society with Hepworth, which helped to further publicize all of the artists involved. This society had strong connections with Picasso, Braque, and Giacometti. At this time Moore started testing the waters of surrealism.
After WWII and several miscarriages, Irina finally gave birth to their daughter, Marry Moore. This heavily influences Henry's sculptures, which started developing forms of families grouped together. These sculptures attracted the attention of educators and led to several installations in areas of childhood development and education. As time progressed Moore received more and more commissions, making him rather wealthy. However, instead of spending all of the money on himself he started the Henry Moore foundation to help better the education of the arts.
Moore died on August 31, 1986.
"Reclining Figure" (1951)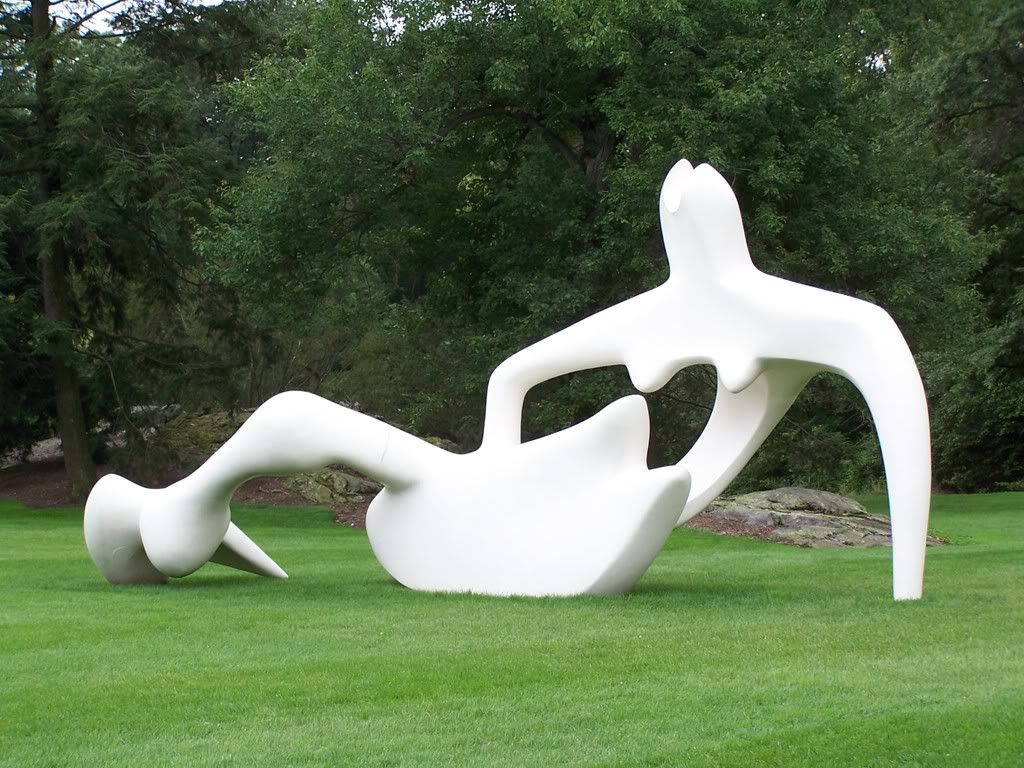 The organic forms of Moore's sculptures fit in perfectly to my senior thesis. After seeing how large some of his pieces are it's hard not to be influenced by him.