Kihl is a self taught artist, sculptor, and designer, and a damn good one at that! His body of work is quite diverse, containing everything from ceramics, metal sculpture, illustrations, digital photography, and computer drafting. He founded Kihl Studios in 2001 to create sculptures and creature designs. Not long after founding his studio he began working for film and entertainment as a production designer, art director, sculptor, prop builder, and creature designer, among other things. He currently resides in Arizona and New Mexico, but spends most of his time in Los Angeles.
Some of his work can be seen in the 2004 Stephen King film, "Desperation." The human skulls he created look frighteningly life-like, blunt force trauma wounds included. The cat skull he sculpted looks almost like the real thing (I should know).
Recently, he created a Loch Ness Monster skull for a promotional tour to Steve Alten's novel, "Loch Ness." This huge composite resin and fibreglass beast measures 6 feet long, 3 feet wide, and 3.5 feet tall. It's based off of skulls of several different eel species, most notably the famous moray eel family.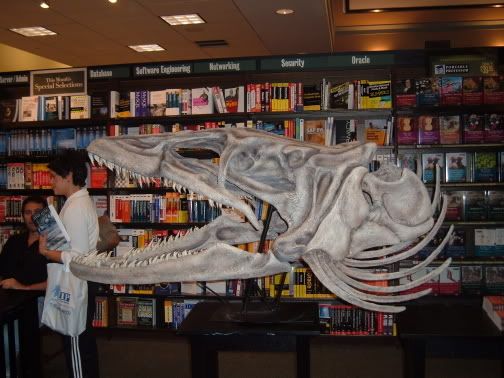 I find his use of bone and metal amazing, and really want my latest cat to finish macerating so I can get to work adding metal accents to the bones and turning it into abstract sculpture, or a wearable piece.
Here's a metal merman skeleton than he made. It's not exactly lifelike, but it looks really cool!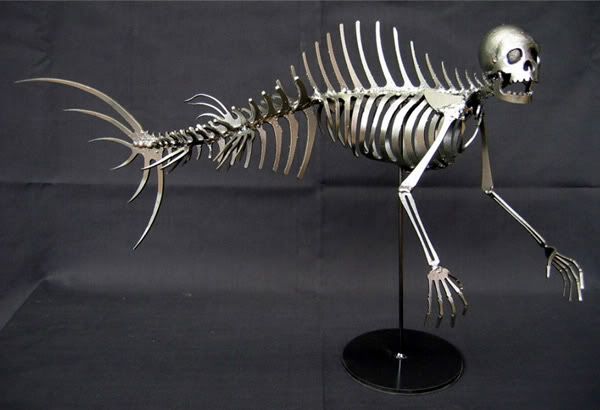 And here's an illustration he did for a bio-mech glove.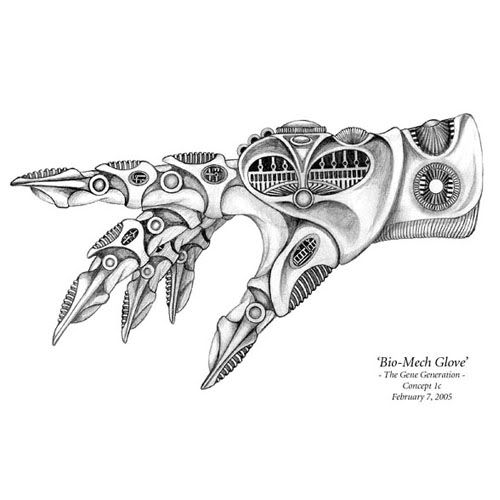 This is right up my alley! It gives me a ton idea for the hand covers I make out of wire. I want to make one with a wire under layer and sheet metal cover with cut outs, revealing the wire details below in select spots. This guy has me really excited right now!