Okay, now it's time to add some trippyness.
Grey was born in Columbus, Ohio in 1953. His father was a graphic designer and encouraged him to develop his drawing abilities. He also felt a close connection to the natural world and had a deep respect for life at a very young age. He would collect insects and animals and bury them in his backyard. The themes of death and an afterlife occur in the vast majority of his artwork, even his early pieces when he was still young. He went to the Columbus College of Art and Design from 1971-73, but dropped out to paint billboards for a year. He then moved to Massachusetts to attend the Boston Museum School and studied under conceptual artist, Jay Jaroslav. He also met his wife in Boston, who is a fellow artist. This was when things started getting weird.
He experimented with LSD with his soon-to-be-wife, Allyson. He then spent 5 years studying human anatomy at Harvard Medical School, studying the body and preparing cadavers for dissection. He also did some work with the Mind/Body Medicine department researching healing energies. All of this worked prepared him well for what is considered to be his masterpiece, the Sacred Mirrors. When doctors saw this series painting they did not hesitate in asking him to do anatomical illustrations.
The Sacred Mirrors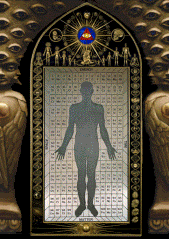 The Sacred Mirrors are a series of 21 life-sized paintings that take the viewer on a journey by examining the body, mind, and spirit. They represent the evolution of man through biological, technological, and cosmic stages. This series took 10 years to complete. They layers of the human body are gradually stripped away, revealing muscles, vital organs, the nervous network, and skeleton. After completing the Sacred Mirrors, he began work on a series that documents vital moments in human life (birth, copulation, death, etc.).
Grey instructed Figure Drawing and Anatomical Studies at New York University for 10 years. He now teaches a course in Visionary Arts at The Open Center in New York City.
In 1972 Alex began a series of performance pieces that represent rites of passage and the development of the human psyche. He has performed 50 of these, all of which are available on DVD.
Grey's work is heavily influenced by Eastern philosophy. He profound respect for the Buddhist and Hindu faiths are very evident in all of his work, either through symbols and stylistic motifs.
Despair
It's hard to believe, but all of his work is hand painted in oils, on canvas or linen. Technically, he's just that good.
Bardobeing
Yes, those are fetuses in the skulls. It's supposed to represent the cycles of life, particularly birth and death.
Alex's extensive knowledge of anatomy is astounding and has influenced me to look deeper than skin and scales to see what makes an organism move. Since taking this approach my sculptures have become much more realistic and life-like. The curves of my sculptures' bodies now look much more believable.