Linares is an artist that I discovered in January 2009 during a study abroad trip to Mexico City. I have been a fan of a Mexican folk art called alejibres for quite a while now. They are colorful wood carvings the represent animals with eye catching colors and patterns. A common pattern found in alejibres are tiny dots, usually white, that break up areas of solid color.
Linares has branched out from the wood carvings and uses papier mache as his medium. His works are also much, much larger than traditional alejibres. One of his most memorable pieces an be found at Museo Delores Olmedo. This piece is an impressive Dia De Los Meurtos display that consumes an entire room. Several life-sized skeletons are gathered around a kitchen table covered in food, enjoying the festivities. He has even included a dog skeleton, which has snatched a link of sausage.
He also has a smaller display at the Fowler Museum at UCLA depicting a rather humerous (no pun intended) scene from Don Quixote, composed entirely of papier mache skeletons of both people and a horse.
Felipe does not work by himself, but has entire family producing these impressive sculptures as well. So here is what he does;
One of his many Dia de los Meurtos skulls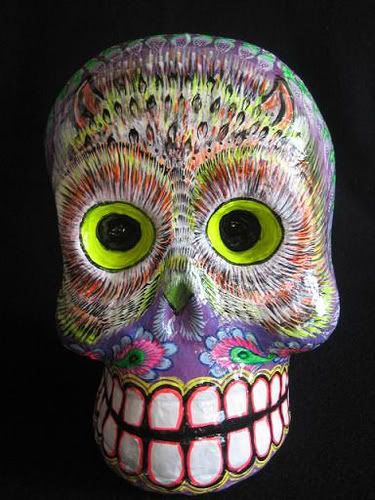 "Enramada"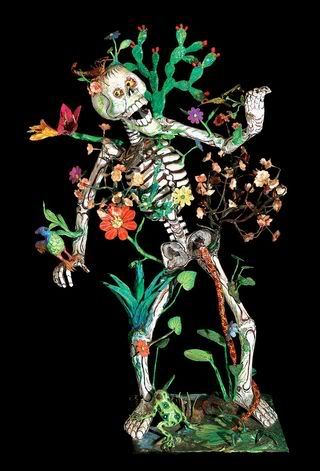 an alejibre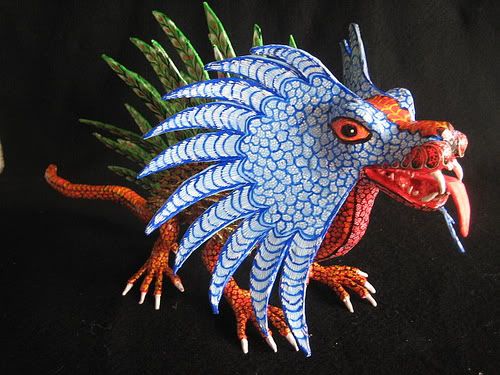 "Apocalypse"